Regional Context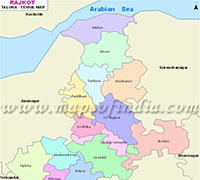 Rajkot is strategically located in the centre of Suarashtra Region in the Aji basin. Rajkot is spread on both banks of Aji River which cuts through the city. The city is well connected not only to major towns within the state but also to neighboring states through strong transportation linkages all by rail, and road.
The notified Rajkot Urban Development Area is carved out of the one district and 5 talukas -Rajkot, Padadhari, lodika, kotdasangani and Tankara from Rajkot District. RUDA is surrounded by the other small villages form other talukas.
Within a periphery Form the boundary of RUDA there are 3 urban centers (Municipalities) namely Jamnagar in the north westerns part, Bhavagar to the southeast and Junagadh in the east.